Reports
Too hard to say goodbye to Tibet: China's Jane Goodall


October 08, 2015
chinadaily.com.cn

Editor's Note: This year marks the 50th anniversary of the founding of Tibet autonomous region. The China Daily website profiles ten ordinary people, providing a snapshot of life in contemporary Tibet and the great changes the region has experienced over the past 50 years.
A 2008 file photo shows the wildness of alpine steppes studded with saline lakes and wetlands in Chang Tang, a high altitude plateau in northern Tibet autonomous region. [Photo/IC]]

At nearly 5,000 meters above sea level, there ran two vehicles – an SUV and a truck – along the wildness of rolling alpine steppes studded with sand dunes, saline lakes and wetlands.
It was 1992. A seven-person ecology team spent more than one month driving some 14,000 km to do research in Chang Tang, a high altitude plateau in northern Tibet autonomous region. A year later and thanks to their efforts, the vast region was protected as a nature reserve with an area covering 247,000 sq km, the second largest of its kind in the world.
"As we drove into night one day, we saw flickering lights about hundreds of meters ahead and thought there would be inhabitants," recalled the team head Xu Fengxiang, 84, on a visit to eastern Tibet's Nyingchi city, where she founded China's first high-altitude ecology research institute 30 years ago.
The reddish-greenish flashes turned out to be the eyes of more than a dozen adult wolves. When the ecologists realized the danger, the howling pack had already surrounded them.
"The moment my driver rolled down the window and aimed a gun at the wolves, I stopped him," said Xu, the only woman of the research team. "I gave him three instructions – turn on both rear and head lights, blow the whistle and drive at a slower speed."
Xu Fengxiang, 84, introduces to her students a type of spruce trees on a visit to Nyingchi city, where she founded China's first high-altitude ecology research institute 30 years ago, Aug 8, 2015. [Photo by Chen Bei/chinadaily.com.cn]


These instructions finally helped them break out of the siege of wolves.

Although it took place 23 years ago, the 84-year-old legend's memory of this thrilling adventure is still vivid. Age has not dulled her sharp mind or senses.

"This incident proved my point that there is active wildlife, including wolves, Tibetan gazelles, snow leopards and varieties of plants, in the so-called lifeless zone," said Xu, who proposed the region should be protected.

The ecologist had a maverick view of the relationship between man and nature. She insisted human beings have an equal status with other animal and plant species, which co-exist in the ecosystem.

"Man is nothing but one tiny biotic component in the entire ecosystem, and man should place himself at the mercy of nature rather than seek power over it at its source," she said.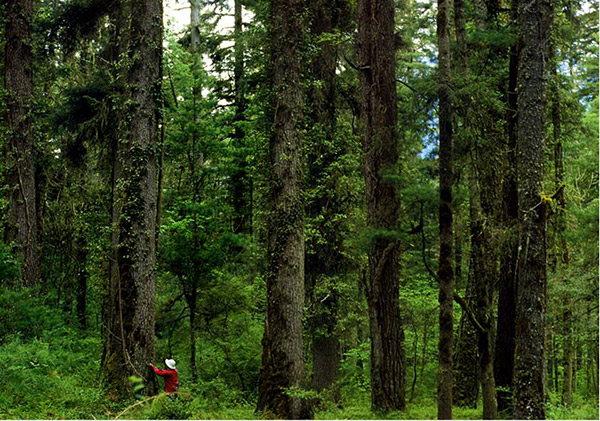 Xu Fengxiang (in red) makes a field research in the Gangxiang Spruce Forest in the 1980s. [Photo provided to chinadaily.com.cn]

Her love affair with nature started in early childhood and has been central to her life ever since.

Love turned into obsession in 1978 when the then-47-year-old forest ecology university teacher bid farewell to her family in Nanjing, in the eastern province of Jiangsu, and headed for the Tibetan plateau to begin research into what she calls the four high-altitude ecosystems — glaciers, water, grasses, and forests, which are all effected by the harsh conditions, high altitudes, extreme winter cold and low oxygen levels that can result in aridity and desertification.

In the 18 years that followed until her retirement, Xu's footprints covered 130,000 km and more than 20 virgin forests in Tibet as she conducted field research. She visited base camp at Qomolangma, the world's highest mountain, known in the West as Mount Everest, three times, at ages 61, 70 and 78.

'China's Jane Goodall'

Located in Nyingchi's Bome county, the Gangxiang Spruce Forest has an area of 46 sq km, more than 61 percent of which is covered by spruce trees.

Without a seven-year field study that Xu conducted in the 1980s the forest would not have been measured and designated a nature reserve as a protection measure. In 2005, it was ranked by China National Geography Magazine as one of the country's "Top 10 Most Beautiful Forests".

"She is China's Jane Goodall," said Yang Ling, an environmental enthusiast in Beijing.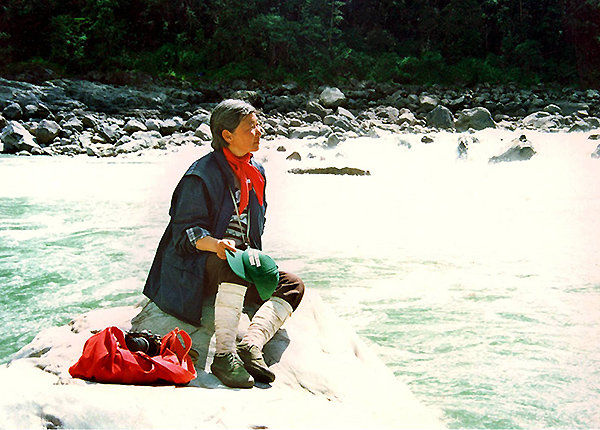 Xu Fengxiang makes a field research on the Yarlung Zangbo River in the 1980s. [Photo provided to chinadaily.com.cn]

"Like Goodall who devoted her life to the study of wild chimpanzees and the environmental cause, Xu spent more than 60 years on ecological studies, and in her later years she has specialized in Tibetan ecology and has helped to establish a number of nature reserves," he said.

In the past 12 or so years, Xu has published 11 academic books, introductions to the distribution of wild flowers, mountains, valleys, rivers and forests in Tibet.

Xu's recent trip to Nyingchi was her last because the low level of oxygen at high altitude can be detrimental to the health of seniors, and she has reluctantly conceded defeat. "It is really so hard to say goodbye," she said, as tears welled in her eyes.

"I bid farewell to the plateau many times since my retirement in 1995, but I flew back from Beijing again and again because of my love of nature and this landscape."

She has now been tasked with educating the younger generation about Tibet's fragile ecology and the need for protection. "I deliver lectures to students about 10 times a year, and introduce all the Tibetan species to them," she said.

"I'm happy to be a 'scientific preacher' for Tibet until the day I die — urging my fellow humans to protect the species on the plateau."

Contact the writer at: chenbei@chinadaily.com.cn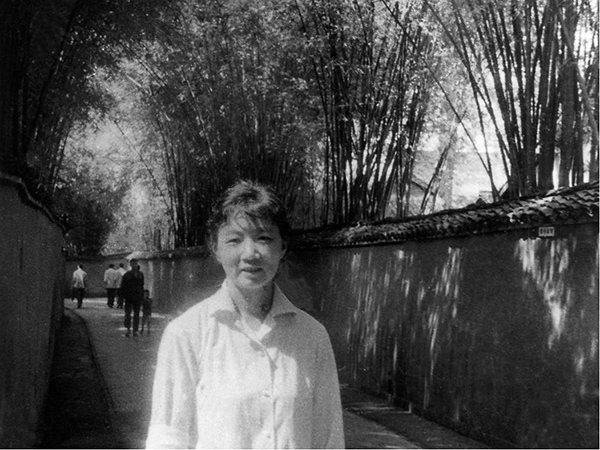 Xu Fengxiang is pictured in this file photo when she was in her 20s in the Nanjing Forestry University, where she became a teacher after graduation.Photo provided to chinadaily.com.cn]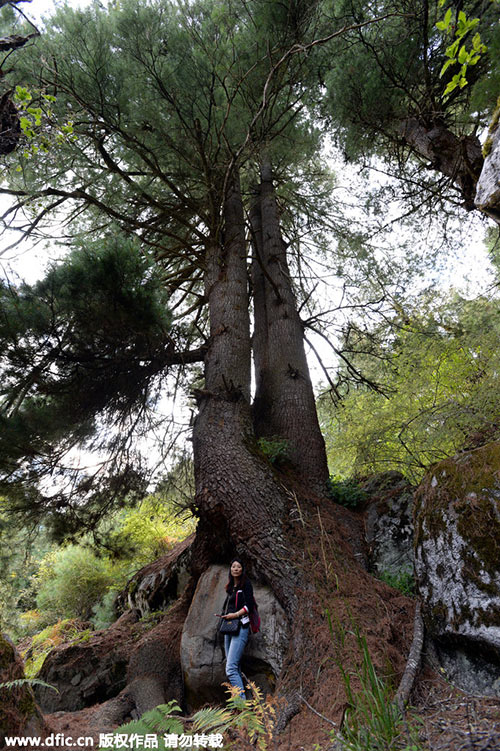 A visitor stands beside a spruce tree in the Gangxiang Spruce Forest in 2014. It was ranked by China National Geography Magazine as one of "Top 10 Most Beautiful Forests" in China in 2005. [Photo/IC]